3 essentials for self-build success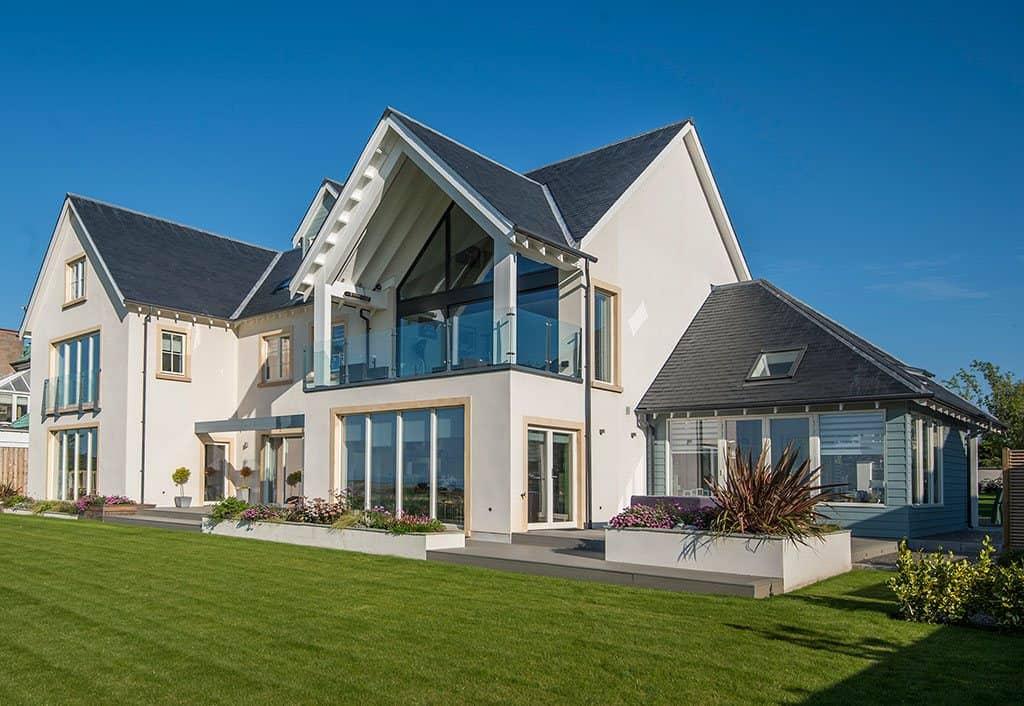 Timber self-build – ideal for today's demanding bespoke designs
The self-build industry is evolving fast, and timber frame construction is ideally placed to respond to changing demands from individual self-builders. Fleming Homes' Technical Director Richard Simmonds explains why.
Switched-on self-builders
'Self-builders are more knowledgeable and demanding than ever, thanks to media coverage and information-sharing online. Programmes such as Grand Designs and Building the Dream are having a big influence on consumer trends, and people are picking up on developments in technology and materials very fast, too.'
'So the needs of individual self-builders are more diverse than ever, and there's so much scope now for new home builders to build a property that's completely bespoke to their requirements. Happily, the timber frame industry is ideally placed to respond to this growing need for flexible self-build.'

Timber self-build – tradition meets flexibility
'Timber frame construction has always been popular with both self-builders and developers for its traditional benefits: speed of erection, quality, efficiency and sustainability. But with the demand for innovation and bespoke construction, it's really come into its own.'
'The need for flexibility is pushing timber frame innovation harder and faster than the industry has ever seen before. It's a very dynamic and changeable marketplace.'
Media impact on self-build innovation
'Thanks to the media impact on self-build trends, more and more people understand that when you build your own home, practically anything is possible,' says Richard. This is driving not only product innovation, but also flexible design and construction services. This growing demand for flexibility really plays to Fleming Homes' strengths as a company.'
'We've seen a massive change in the last five years in particular. Typically, modern self-builders are looking for design details such as bigger free-spanning floors for open plan living, or feature glazed gables to maximise light and character, or double-storey open galleries. Increasingly, home builders have a specific vision and want to make a statement with their project."
Eclectic design and realistic budgets
'That freedom of design does make the engineering process in a modern day self-build project more complex,' admits Richard. 'Engineered products are often needed to straddle the gap between what the client wants and what's structurally possible. Products like 'I' joists and steel members are everyday components of a timber frame kit, because of their superior structural capabilities. The high cost of engineered projects for an eclectic design can eat away at a budget before the project has even reached site.
The key challenge for designers is to meet the self-builder's design aspirations with achievable solutions aligned to a realistic budget', he explains. 'It's very common to meet self-builders who don't have a realistic match between what they want, and what they can afford. The cornerstone of any self-build project is a design that goes hand-in-hand with a feasible budget. This doesn't necessarily mean downsizing or cutting corners; it means working a design that makes the best of timber frame's flexibility to suit the needs of that specific project.'

Bespoke means teamwork
'At Fleming Homes, we work out the best solution for each individual project. We go by what's best not for other projects, but for this one. We make sure the self-builder gets maximum return on investment, by designing the project to be completed within the expected budget. It goes without saying that it's vital for the self-builders to be closely involved in this process.'
Successful self-builders understand that it's all about their project, and no one else's. They educate themselves as best they can on the available solutions, and play a pivotal role in guiding the project through to completion.
Repeat self-builders David and Aileen Downie explain the importance of keeping abreast of the options. 'We learned as much we could about the industry before starting our first project. If you don't, it's very easy to go down a path that you don't really want,' says David. 'You have to take advice from the professionals, but the better you understand the information you're given, the better informed you are for making the right decision for your particular build'.
What's the secret of successful modern self-build?
Fleming Homes Technical Director Richard Simmonds picks out three key elements: 'Flexibility, knowledge and timber frame. Beyond that, other factors naturally come into play: method of construction, your chosen method and design services, and your role as a credible member of the design team.'
'The more you get involved, the better the result. And that's the huge attraction of a self-build project, after all – the chance to create a home that's specific to your needs, your vision.'