Build your self-build knowledge at the NSBRC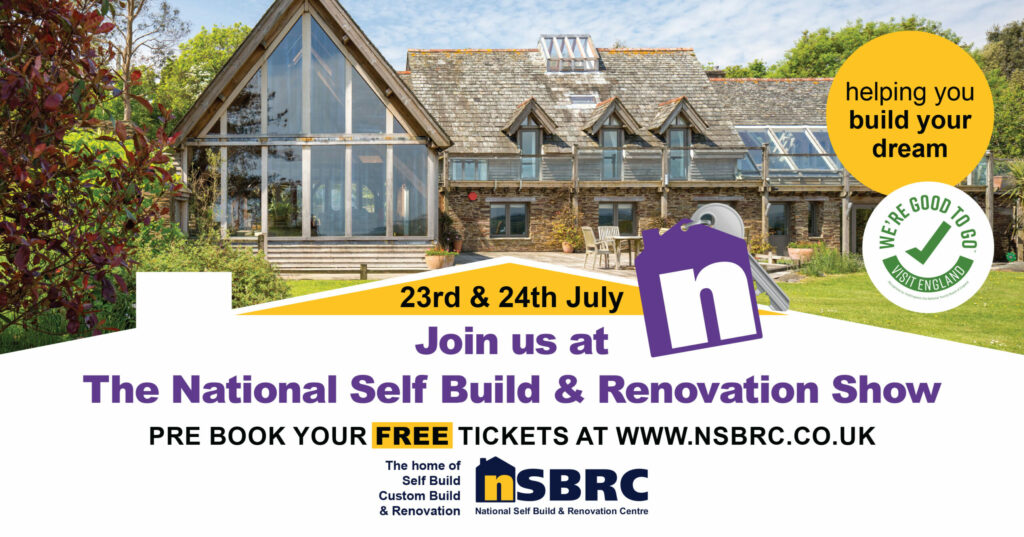 Growth is one of our FLAGSHIP values which explains our enthusiastic commitment to learning. For us, the curious mind and a thirst for knowledge are fundamental to the success of self-build projects. And this is one of the reasons we have always been huge supporters of the National Self Build & Renovation Centre's (NSBRC) self-build shows.
We are excited to share the news that the centre's National Self Build & Renovation Show returns later this month to attend in person across the weekend of Friday 23rd & Saturday 24th July 2021. Produced by the award-winning self-build visitor centre, their July Show offers two days of live demonstrations, seminars, and an unrivalled lineup of experts on hand to share their advice. If you are considering self-building it really is a great place to start.
The NSBRC team has been working hard to pull together a lineup for the show that's educational, inspiring and relaxing for visitors, and the centre is registered with Visit England as being a venue that's 'Good to go', featuring all the social distancing and additional cleaning measures you'd expect to see.
Across the two days you can enjoy a range of live seminars, case study interviews, demos and free one-to-one consultations with selected experts across a broad range of subjects, and of course, over 250 exhibitors showcasing the latest building products and services.
We asked Harvey Fremlin, the NSBRC's Managing Director, for his tips on getting the most out of a visit to the show:
"Whatever stage of your self-build or renovation project you are at, this event really is a 'must attend!' We have produced almost 300 hours of online content since the first lockdown and we are so excited to see people returning in person, enjoying engaging face to face and discussing their projects. My top tips for an enjoyable visit are:
1. Arrive early! This will ensure you can book onto our educational tours and meet your chosen experts
2. Bring your plans and drawings as it will help the experts and exhibitors give you the best advice
3. Bring your headphones! To enjoy the educational tours simply bring your headphones and plug into your smartphone
4. Bring your mask! This is a Covid-19 secure event and everyone (Staff, Exhibitors & Visitors) will be required to wear a face covering
5. Book early – We may have to limit numbers so book early via our website to ensure you can attend on your chosen day – and remember tickets are free when booked in advance!
Over 250 exhibitors, including Fleming Homes, will be showcasing the very latest products and technologies, with experienced representatives on hand to demonstrate, answer questions and offer their professional advice. Guided tours of the NSBRC's fantastic educational zones, featuring a life-size 'Renovation House' and brilliant 'New Build Journey' are the perfect way to help visualise these products as part of your finished project".
Fleming Homes' Sales Manager, Dan Wilson, and our Timber Frame Designer, Dave Loomis will be available to meet you to discuss your project at the show. You can simply turn up (once you have secured your FREE advance tickets) or pre-book an appointment by emailing hello@fleminghomes.co.uk.
Book your FREE tickets for Friday 23rd and/or Saturday 24th July at: www.nsbrc.co.uk
The National Self Build & Renovation Show is easy to get to with the NSBRC located on Junction 16 of the M4
Parking is plentiful and FREE! The NSBRC, Lydiard Fields, Great Western Way, Swindon, SN5 8UB