Everything You Need to Know about Self-build Home Insurance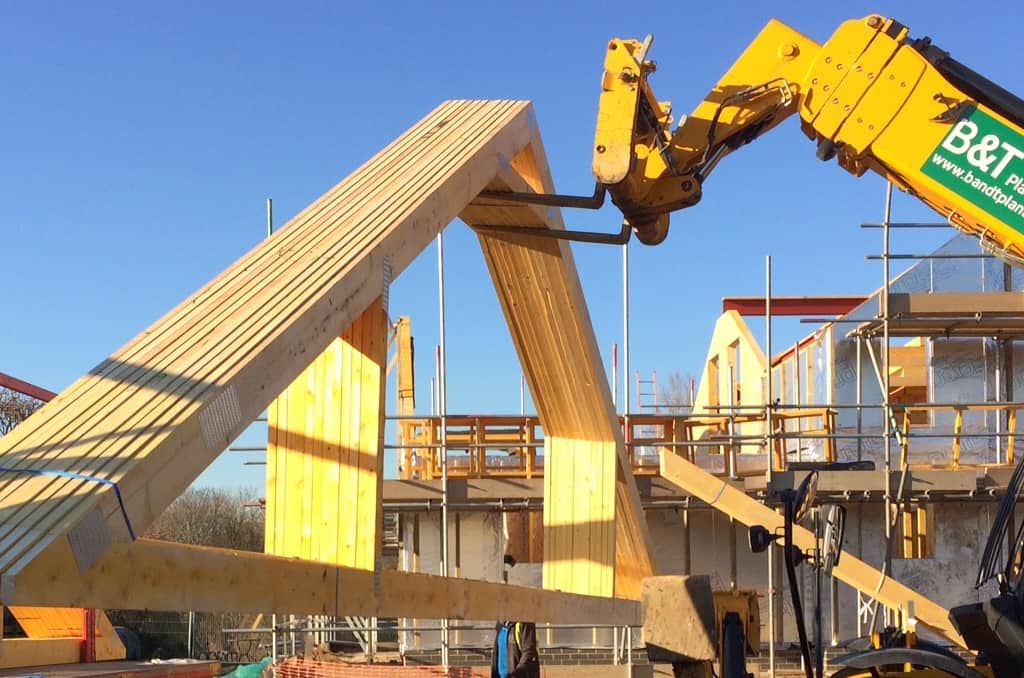 Insuring your self-build project doesn't need to be overly complicated, but it is important to get it right! In this guest blog, insurance specialist Alexandra Richards, from Bruce Stevenson Insurance Brokers lays out what you need, why it's important and when to have it in place.
When should I think about self-build home insurance?
In a nutshell, plan as early on in the process as possible. Once you have exchanged on your plot of land or property you are responsible for the insurance on it. You are liable for any third parties that may enter your land and suffer injury, damage or loss if there has been negligence on your part.
You may have bought your plot with a view to building in years to come, in which case self-build insurance won't be suitable, because Self-build insurance only starts to operate once the self-build project is due to start. If this is the case, you can purchase 'plot insurance' and usually the cheapest way to secure property owner's insurance for a plot of land is to speak to your existing home insurers. They may be able to extend the 'legal liability to the public' section of your household policy to include your new plot. If your existing insurer is not agreeable to this, then a 'plot insurance' policy can be bought and these start at around £180 for £1m worth of cover. Higher limits can be obtained if deemed necessary, however, pricing does vary depending on the location, size and type of plot.
What does self-build home insurance cover?
If you have bought your plot and plans are underway to erect your self-build, you need to take out self-build insurance. This type of insurance is a property and liability package for those individuals undertaking a self-build home project for their own occupation upon completion. It is not for developers.
There are essentially two areas of cover: The Contracts Works – where you are covered against perils such as fire, theft, storm damage and accidental damage during the contract works and then your Liabilities which provides cover for accidents that occur on site to members of the public or contractors working for you.

Contract Works covers you for loss or damage to:
• the buildings whilst in the course of erection
• the plant, tools and equipment being used
Public and Products liability will cover you for:
• Your legal liability to pay compensation, costs and expenses in respect of personal injury or damage to the property of a third party.
Employers liability will cover you for:
• Your legal liability to pay compensation, costs and expenses in respect of bodily injury sustained by an employee arising out of and during the course of employment with you.
Cover starts the moment you exchange contracts on the property or plot of land and during the construction process right up to the point that the home is completed and signed off. Once completed, you then require full home insurance.
My contractor is insured – do I still need self-build home insurance?
It is always advisable to remain in control of insuring your project to ensure that there are no grey areas or gaps in cover. If your project is being financed with a mortgage, it is highly unlikely that the lender will accept a contractor's policy and may insist you source your own insurance. Your contractor is likely to have some insurance indeed you should always check that as a minimum they have liability cover, but their policy might not cover materials that you have sourced and bought. Their policy may have other restrictions and exclusions that leave you and your build vulnerable.
How is self-build insurance priced?
The risks a property faces can differ depending on where it is built. An inner-city property is more susceptible to theft and malicious damage. Generally, a self-build site will lack the security of a larger development, so they can be a target for thieves with materials and tools proving particularly popular. Rural properties may be less attractive to thieves but can be more susceptible to weather related claims such as storms. In general the value of the construction forms the basis of how the project is rated for insurance along with the length of time cover is required. Some policies offer a 9 month period of insurance, whilst others 12 months with the option to extend to 24 months thereafter. You could expect that a 9 month policy with a construction value of £200,000 to start at around £450.

What sort of claims can arise?
Theft is the most frequent claim for self-build insurance where materials, tools and machinery are stolen from the site. There continues to be targeted thefts of Non-Ferrous Metals (NFM) such as copper, lead, tin and related alloys such as brass and bronze, but aluminium and ferrous metals such as iron and steel are also sought after. Construction sites can be prone to a 'strip out', where nearly all metal is removed by thieves. This can include electrical cables and switchgear, pipework, radiators, flashings, boilers, gates, fencing and so on. Should an accident occur on site for which you are held responsible the claims can run into a great deal of money which can delay your build or make it financially impossible to complete it. This even includes trespassers. Accidents are certainly one area where your liability cover comes into operation.
Are there any exclusions?
There will be exclusions in an insurance policy, so a thorough understanding of the policy wording is crucial. Some key exclusions are listed below:
• The first part of any claim (your excess)
• Damage to vehicles
• Gradual deterioration or wear and tear, faulty or defective design, materials or workmanship
• Damage to existing structures and contents (unless a sum is shown is shown opposite)
• Repair to or replacement of your plant or hired in plant caused by its own mechanical or electrical breakdown
• Terrorism (unless cover is specifically requested)
• Damage to existing structures unless these have been noted.
• Loss or damage from pollution or contamination
Risk management is key and as is having a solid working relationship with clear lines of communication with your contractor, should you be using one. Whenever the site is left unattended all reasonable measures must be taken to ensure the site or premises are secure. This would include ensuring that the tools and equipment are kept inside a locked and secured building or unit.
On completion
Congratulations! You've built your dream home and hopefully haven't had to make an insurance claim. However, if you have, you want to take comfort from the fact that you have been in control of the insurance, having bought a self- build home insurance product that gives you that peace of mind. It is important that you read the policy wording carefully on purchase so that you know what the policy will do for you in the event of loss or damage and so that you know what your obligations are in order for cover to be effective. The last thing to arrange is full household insurance to ensure the continued protection of your greatest investment.
For more information or to obtain a quotation on your self-build home project please contact:
Alexandra Richards
M 07464 545648
W 0131 553 2293
E alexandra.richards@brucestevenson.co.uk
www.brucestevenson.co.uk