timber frame home benefits
Timber frame homes have many benefits for self-builders, making them the smart choice for most self-build situations. Timber frame houses often come as kits, yet also lend themselves to endless bespoke design options, giving self-builders the chance to realise their individual vision at a manageable cost.
As manufacturers of timber frame kit homes for self-build, we're great fans of timber frames.
Here's why:
Timber frame homes allow faster on-site construction, so weather is less of a problem. No wonder they're the preferred form of construction in Scotland and Scandinavia!
Timber frame construction allows great flexibility to suit different budgets and aspirations, from standard-spec kit packages to fully bespoke architect-designed projects.
Timber is a natural, renewable and sustainable resource with low embodied energy. Even more so when supplied locally!
Timber frame is a long-established build method in the UK and throughout the world. Over 85% of homes in the developed world use a form of timber construction.
Timber frame is the fastest growing construction method for domestic housing within the UK.
Timber frame thermal performance – superstructures can take high levels of thermal insulation, increasing the energy efficiency of your home.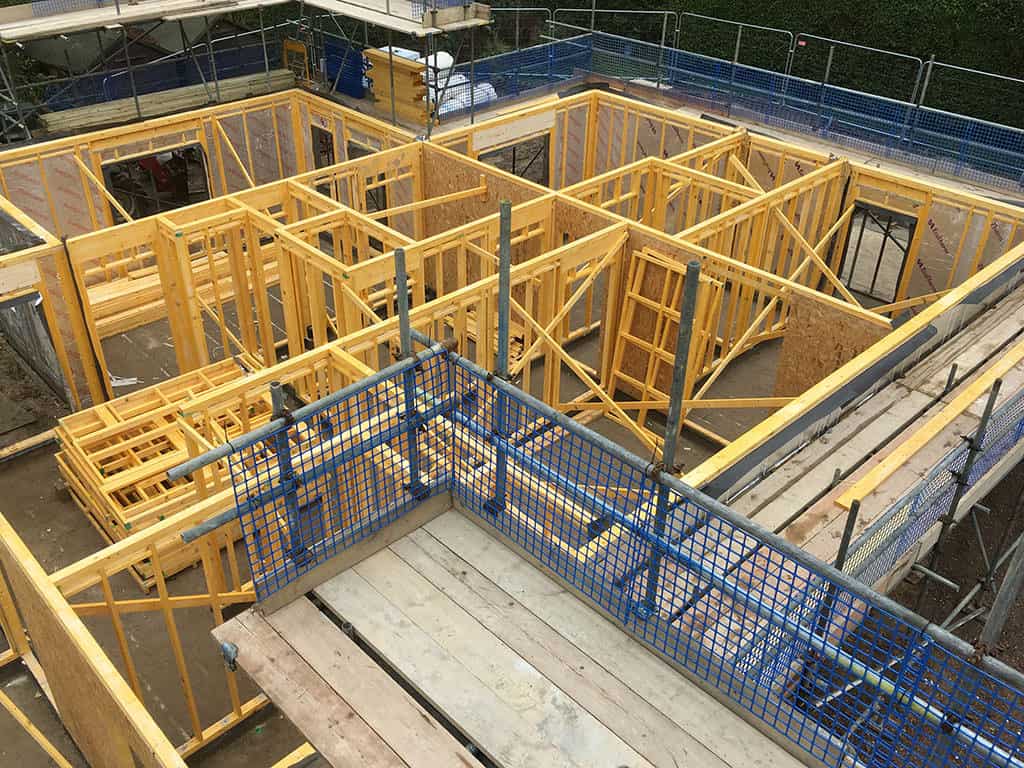 Why Fleming Homes Timber Frame?
The general benefits of timber frame are becoming better known in the UK, and especially Scotland, but there are many different types and specifications of timber frame construction. What's particular about Fleming Homes?
We specialise in manufacturing high quality open panel pre-insulated timber frame systems.
This traditional system of timber frame manufacture typically comprises a prefabricated panel made up of 140mm timber studs at 600mm centres, with OSB sheathing and a reflective breather membrane.
Each project we manage is a bespoke one-off, so the panel design and specification can be adapted to suit your individual project.
As we see it, the traditional open panel timber frame system has significant advantages for self-builders. From our 30 years' experience, the main ones are:
Speed of off-site manufacture: reduced lead times and lower production costs
Speed of on-site erection: quicker progress to 'wind & watertight', reducing the overall build cost
Flexibility: from start to finish, there are no pre-defined construction constraints, so the fabrication and specification detail of your home can be designed to your specific needs
Lightweight: far less reliance on expensive mechanical lifting
Cost efficient: more economical to manufacture and to erect, reducing total build costs
Sustainable: our raw timber materials are sourced from well-managed, sustainable forests, and have lower embodied carbon than other materials
Quality: traditionally hand made in line with exacting quality procedures
Our panel systems can be manually fitted with insulation on site, or the primary layer of insulation can be fitted at our factory.
See further information about our insulation products.
Timber Frame Excellence – ISO 9001
Fleming Homes has an excellent reputation for the quality of its timber frame products. Every timber frame panel is precision engineered following a rigorous quality procedure, and individually signed off by its maker. As a company, we're proudly certified to ISO 9001 standard.
Want to know more about our rigorous approach to timber frame self-build? Call Fleming Homes today.
We've answered a wide range of common questions in our Fleming Homes FAQ section,
if you don't find the answer you're looking for, why not speak directly to us on 01361 883785.