Market dynamics and the supply of materials for self build timber frame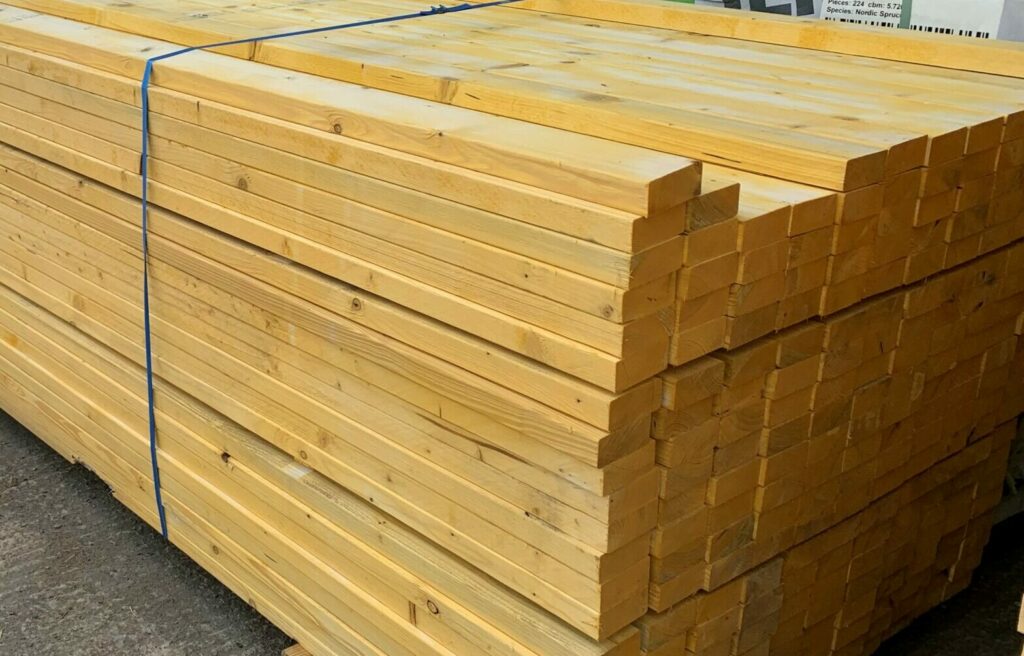 If you have a self-build timber frame house project underway, or you are planning one, you will already be aware that the availability of materials is an issue affecting the construction sector, regardless of your chosen structural system. In this article, Operations Manager, Michael Burns explains how this is affecting timber frame manufacture and looks ahead to the future.
The situation right now
COVID, Brexit, and wider market forces have all put a strain on the materials used in house building to the extent that demand is currently outstripping supply. Timber frame house manufacturers like us, are receiving materials; however, this relies on strong relationships with our suppliers. In general, lead times are stretching out beyond what is typical and products are taking longer to reach manufacturers and sometimes in reduced quantities. Alongside supply constraints, the materials used in construction projects have been steadily rising in price over the past year with a sharp increase in certain materials felt this month as supplies dwindle.
How did we get here?
COVID has changed the way we think about how we live, and what we want from our homes and outside spaces. The first lockdown led to unprecedented domestic demand on materials, specifically timber, used for DIY house improvements, renovations, and garden projects. This was not unique to the UK, rather something seen around the world. Meanwhile, with sawmills shut during the first lockdown, it later became impossible for previously plentiful stock levels to be built back up to the levels we enjoyed pre-2020.
Around 90% of the softwood used in new timber frame self build projects is imported from European Union countries and further afield. As climate change comes into an even sharper focus, timber's credentials for locking in carbon and its sustainable use in housing make it an attractive resource. Other countries recognise this and their willingness to pay higher prices than the UK has diverted a considerable volume of product away from the UK, reducing availability and pushing up prices. Where softwood is destined for the UK, it has been hampered by Brexit-related import issues and transport issues. Demand for softwood timber is forecast to continue to increase to 2025 and so constraints on supply and increasing prices look set to continue.
This situation is not unique to timber. Supplies from cement, steel, roof tiles, insulation, and a host of other items used in construction are scarce. Demand is being driven by homeowners in secure jobs who have built up discretionary income on the back of lockdowns and restrictions and now have an appetite for home improvement.
What happens next?
Sawmills traditionally shut down over June and July for maintenance work and holidays. While demand for timber products remains high, this will inevitably squeeze supplies further. The UK Government's announcement that investment in infrastructure is one of the three core pillars of its plans to "build back better" will also influence demand on building supplies. These factors along with those already mentioned will contribute to ongoing supply issues and rising costs.
What does this mean for your self build timber frame house?
There are two ways in which current supply issues could affect your project. Firstly, if your quotation is due to be updated then there is every likelihood you will see the costs associated with your project rise. Secondly, in extreme circumstances, you may find we contact you to discuss alternative products to those listed on our specification. In this scenario, we will have sought out a solution where an item in short supply can be replaced with another that delivers the same technical or structural requirements without any compromise to the integrity of your build.
Meanwhile, we will continue to work closely with our suppliers to ensure we have sufficient stock in hand to fulfill customer orders with a confirmed delivery date. We will maintain regular communications with our customers and continue to exercise our capacity for critical thinking to ensure we keep manufacturing and serving self-builders, despite tight supplies.